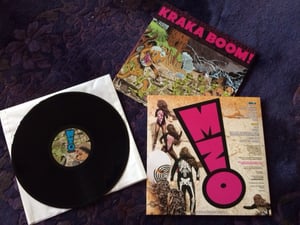 $

25.00
The 4th release from Australia's Monster Zoku Onsomb! (MZO!)
Crowd funded by our faithful ZOKU all over the world!!!
Recorded on The Farm, Redland Bay Australia.
Produced by David Thrussell.
Mastered by CLUNK : Rashard Becker in France.
Artwork by Ben Constantine AKA Plump Oyster.
Pressed in Holland by Foon Vinyl 2014.
PLEASE NOTE : If you buy from outside Australia, the record will be sent from Germany.
This means that combining shipping with other items is not available.
Sorry.
If you wish to buy our other records - please drop me a mail at penelope@monsterzoku.com and we can work it out :)
SIDE A
* Smash It (Ranz Des Vaches)
* Higher
* Rebound
* Devils and Demons
* Vast
SIDE B
* Eyes
* Excita
* The New Cocksucker Blues Hardcore '92 Remix (Feat. Snog)
* Priss's Song
* Happiness Machine